There are so many things to do in Johannesburg, and yet my awesome home town always gets skipped out on international travelers itineraries for South Africa. On my last trip home to South Africa, I wanted to make it my goal to be able to convince people as to why they should travel to Johannesburg, to spend longer than 24 hours here, and what they need to see and do in Johannesburg.
I lived my whole life in Johannesburg, otherwise known as Jo'burg or Jozi. Up until moving to the United States, of course. Jo'burg is the powerhouse of South Africa, showcasing the diversity of our country. It is the unofficial cultural, economic, and political capital of South Africa, although it is not formally labeled that way. With over 4 million people living within Johannesburg, and 8 million in the greater metropolis area, the largest city in South Africa, why on earth would you skip it? We may not have a mountain, or a beach, but we have history, culture, food, museums, and an incredible vibe. The city was settled post 1886, after the discovery of gold. Thousands flocked to this area from around the world, all in search of gold and riches - a sentiment that is often mimicked in todays' modern times, with thousands across Africa coming to Johannesburg in search of work and a better life. The city truly reflects the diversity of South Africa, and within its streets and suburbs there is a strong juxtaposition of our history and our future, our horrific past and our promising but fragile future. We are indeed a work in progress, sometimes a beautiful, ugly work in progress. Below is a collection of some of my favorite shots of my Jozi from my two week trip back home to South Africa. Some of these pictures were taken on the City Sightseeing SA Johannesburg Hop On Hop Off Red Bus tour.
Johannesburg Skyline
One of my favorite things in Jo'burg is our skyline. This view was taken from the top of the Melville Koppies, just outside of the CBD. Depending on which direction you take a picture from will depend on the skyline. My personal favorite vantage point is from the East, coming from the airport. You can get an awesome shot of the skyline if you go to the Bedford Center.
The Proudly South African Flag
The Orlando Towers
One of the most distinctive landmarks in Soweto, this decommissioned power station is now an adventure facility where visitors can participate in extreme sports, like bungee jumping. One of the towers is used for advertisement and media, and the other reflects township scenes and important figures who lived in Soweto.
Saturday morning at the Neighbourgoods Market in Johannesburg
Neighbourgoods Market opened just before I left South Africa, around 3.5 years ago, and has since thrived in it's location in the CBD. Every Saturday, various foodie-centric businesses set up, selling everything from paella to cupcakes.
The Old Johannesburg Train Station
Only the structure of Johannesburg's first rail way station is left. Now it only houses occasional pop-up markets, and many photo shoots. It has a great view of the surrounding city and the Nelson Mandela Bridge.
The Hillbrow Tower from Constitution Hill
The Hillbrow Tower was the tallest structure in Africa for forty years, up until 1978, and is one of the iconic structures of Johannesburg. The tower was constructed for Telkom, South Africa's telecommunications company.
Scenes of Soweto
The juxtaposition of townships shacks with DSTV Satellite dishes.
The Carlton Hotel
Back in the day the Carlton hotel was an extremely popular part of Johannesburg. As a child, I went her regularly as there was an ice rink on the top.
The Soccer City FNB Stadium
This stadium was the site of the opening and final game of the FIFA World Cup in 2010 and is Africa's biggest stadium, with a capacity for 94,736 spectators. It is shaped like a calabash. This stadium was built on the ground that Nelson Mandela first spoke at in Johannesburg after his release from prison. It was also the venue for his memorial service in 2013. The stadium has since held multiple concerts, football and rugby games.
The Orlando Towers from the Hector Pieterson Memorial
The Hector Pieterson Memorial
"In honor of the youth who gave their lives in the struggle for Freedom and Democracy" - this site commemorates the site of the youth and student protests of 1976 in Soweto. High school students took to the streets in a peaceful protest against the introduction of laws that would enforce instruction in schools in Afrikaans. They were confronted by police, resulting in violent scenes where students, including 12 year old Hector Pieterson, the young boy in this picture, were shot and killed.
Scenes of Soweto
While many parts of Soweto have undergone incredible developments, there are many parts of the township that remain in poverty, with no access to running water or electricity. These conditions have resulted in political unrest and general discontent with the ruling party the ANC. On my trip home, the opposition part, the DA, had made huge grounds in securing more votes in the municipal election, so much so that many major cities in South Africa now have mayors who are aligned to the opposition party.
Johannesburg
A view of Johannesburg from the Hop on Hop Off Bus from the south western suburbs. One of my personal favorite views of the city.
Johannesburg, a city of Juxtaposition
The old and the modern contrasts of Johannesburg.
Beads galore!
Beads have always played a huge role in many African cultures, often expressing different aspects of life. Bead work is one of my favorite things about heading home to South Africa, and I always try to pick up as many bracelets and pieces of artwork as I can. This trip home I returned with over 10 ten bracelets, six different beaded animals, and a South African Flag key ring.
Braamfontein Johannesburg
One of Johannesburg's central suburbs with close access to Wits University, museums and art galleries.
Another view of the Old Johannesburg Railway Station
Park Station, Johannesburg
A view of Park Station, Johannesburg's central railway station and the largest in Africa. In the background is a giant billboard of the ruling party, the African National Congress, urging people to vote. The Municipal elections had been held recently. The ANC suffered some major setbacks in the results, with the opposition party, the DA, making impressive gains.
Richard Ward Building, at Wits
On the top floor of this building I had many Philosophy tutorial classes. This is one the buildings at the University of the Witwatersrand, where I completed my undergrad, honors, and masters degrees. Wits is ranked as the top university in South Africa and 176th in the world.
The City Council Building of Johannesburg
I have always hated this building. Not because it is the City Council building, but rather it's architecture. This is Brutalist Architecture, and was used often by the Apartheid government when they built new structures in the 50's and 70's. These kinds of building project a cold and a sense of totalitarianism - exactly what the Apartheid government would have been going for - an imposing structure that dares anyone to defy it.
The entrance to Constitution Hill
Constitution Hill has a complex history in that it has functioned as a prison, notorious for its harsh punishment of prisoners, and as the home for South Africa's Constitutional Court, the highest court in the country. It is situated on the top of a hill in the center of Johannesburg, overlooking the leafy, relatively wealthy suburbs of the north, and the bustling, inner-city JHB around it. It's location and history is a continual theme that is present in Johannesburg today, the modern city grappling with it's ever changing present and its scars from the past.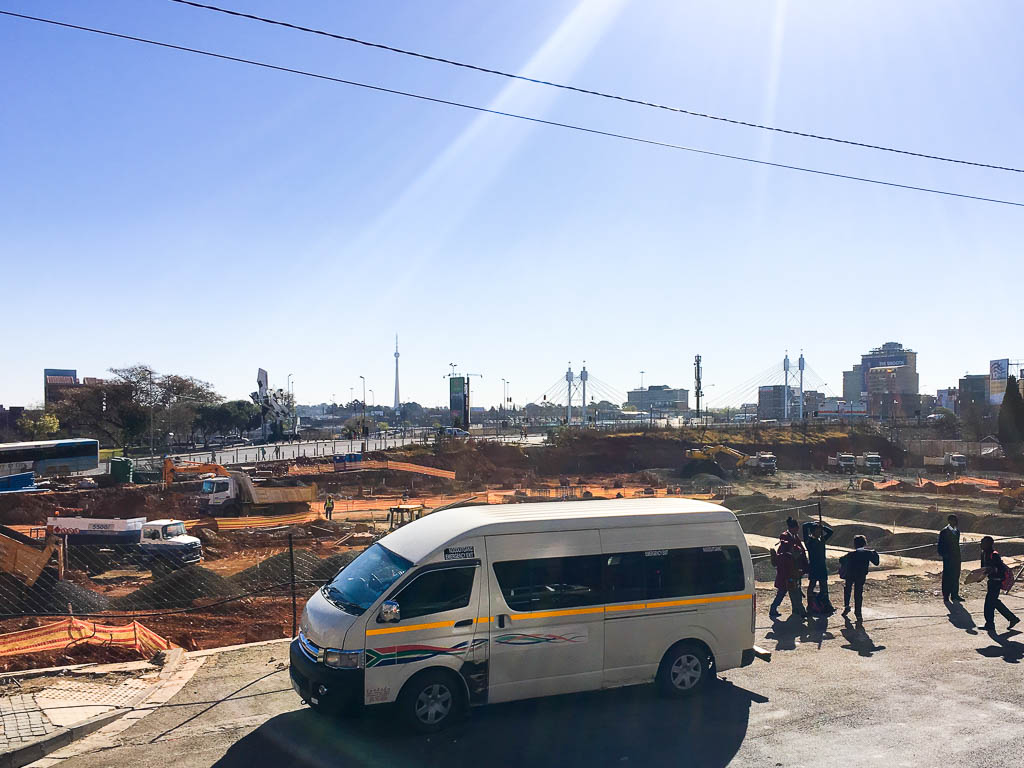 Construction in Johannesburg
I love this shot because it actually has four iconic Jozi aspects to it. The tower in the far distance is the Sentech Tower, one of the iconic towers of the city's skyline. Nelson Mandela Bridge and the construction in Park Station are also showing here. And then of course, the iconic Jozi taxi.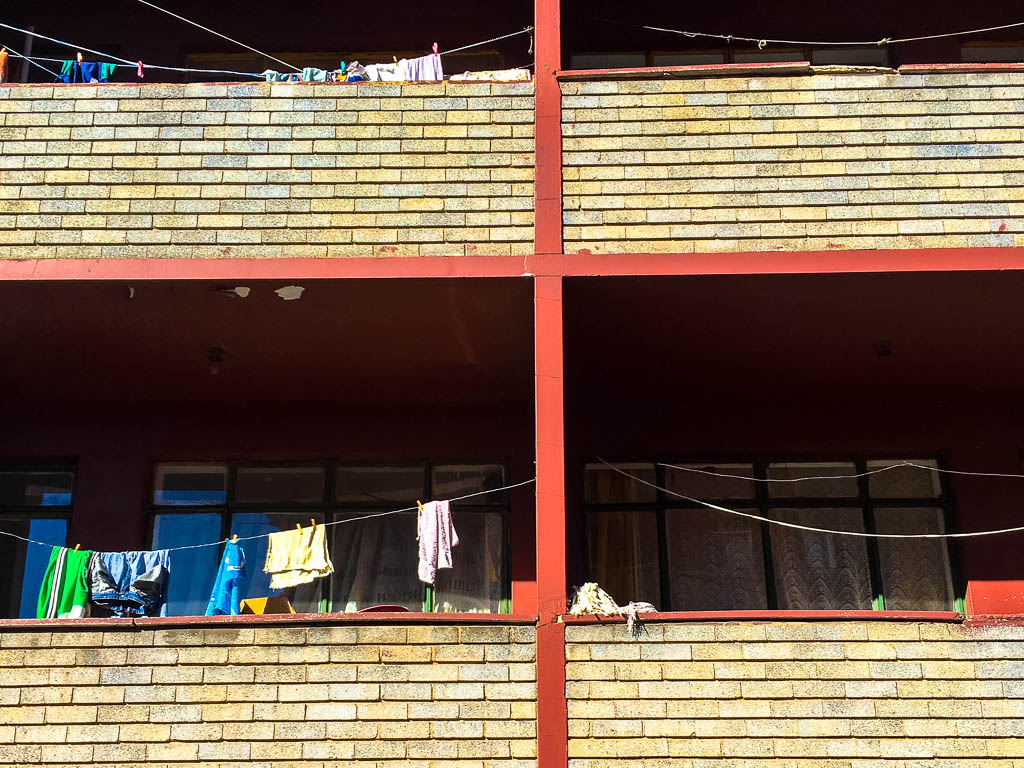 Jozi Inner-City Apartments
Hanging your washing on a line on your balcony is VERY JO'BURG and SOUTH AFRICAN!
South African Taxi Stop
Basically, taxi's in South Africa and Jhb, stop wherever and whenever they want!
Scenes of Johannesburg
If you look closely at this post, you will see advertisement's for abortions and penis enlargements. These kinds of posters are common in South Africa, but obviously illegal, as are their practices by unlicensed doctors.
Johannesburg swarmed by Taxis
Hawkers (Informal Traders) in Johannesburg
The Markham Building
The Markham Building in Johannesburg, completed in 1897. The building was owned by Henry William Markham who later opened a clothing company. I assume the same Markham who opened Markhams, a popular men's clothing brand in existence from 1873 in South Africa.
The Markham Building
Another shot of the Markham Building and its clock. The clock was imported from Scotland and faces South, West, East and North.
Johannesburg City Afternoons
The Nelson Mandela Statue in Sandton City
The Nelson Mandela Statue is an extremely popular site for tourists, and when unveiled in 2004, it became the first statue of the countries first democratically elected President. Made of bronze, it stands six meters tall and weighs 2.5 tons.
ANC Merchandise Building in Gandhi Square
Gandhi Square
Gandi Square, named after the Indian human rights activist and leader, is in Johannesburg's CBD and is part of the main terminus for the city's Metrobus network. Before the 1990's this part of the city was run down and falling to pieces. On completion of a renewal project orchestrated by property developer Gerald Olitzki, the square is now alive, bustling, and shows a return of many shops and other developments. Many of the surrounding areas have now also undergone development and renewal.
Just hanging around in Jozi, South Africa
The Old Standard Bank Building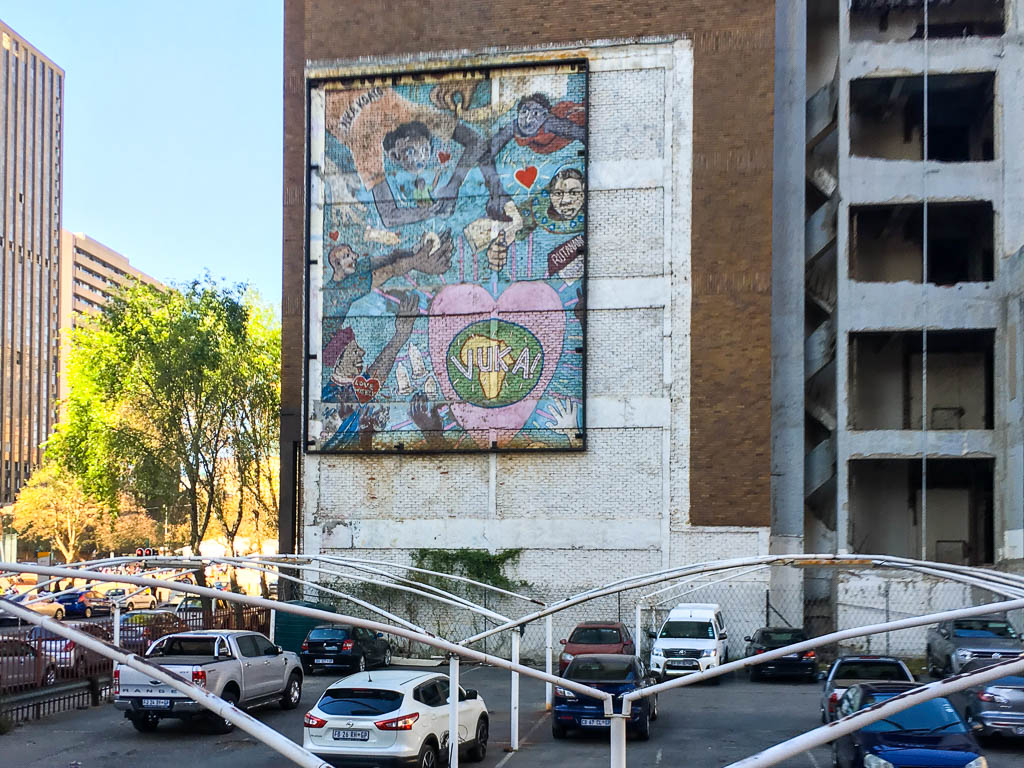 Another Mural in Downtown JHB
Rosebank's African Market
Pictured here are many beaded animal wall fixtures. Rosebank's African Market is one of my favorite places to buy anything African. They have many vendors, often with similar products, but sometimes you find some real gems like these beaded figures. I took back five different animals with me. The artist here is called Lucky, and he represented South Africa at an conference for international artists in London, UK.
The old and the new in Jozi
The South African Flag next to one of my favorite buildings in JHB
More Architecture in Johannesburg
A Hawker selling oranges in JHB
A view of Melville Koppies
The Melville Koppies in Johannesburg offer tons of beautiful small hikes and trails, particularly to see the JHB skyline. It is not the safest of places however, so one must take caution on these hikes. Walking tours are also offered on certain weekends.
A busy Saturday morning in Jo'Burg
Beaded Dolls and Colorful Baskets
Some of the cute items you can buy at Rosebank's African Market. This is the best and most affordable place to buy your african curios - do not buy them in the airport! They are way more expensive there!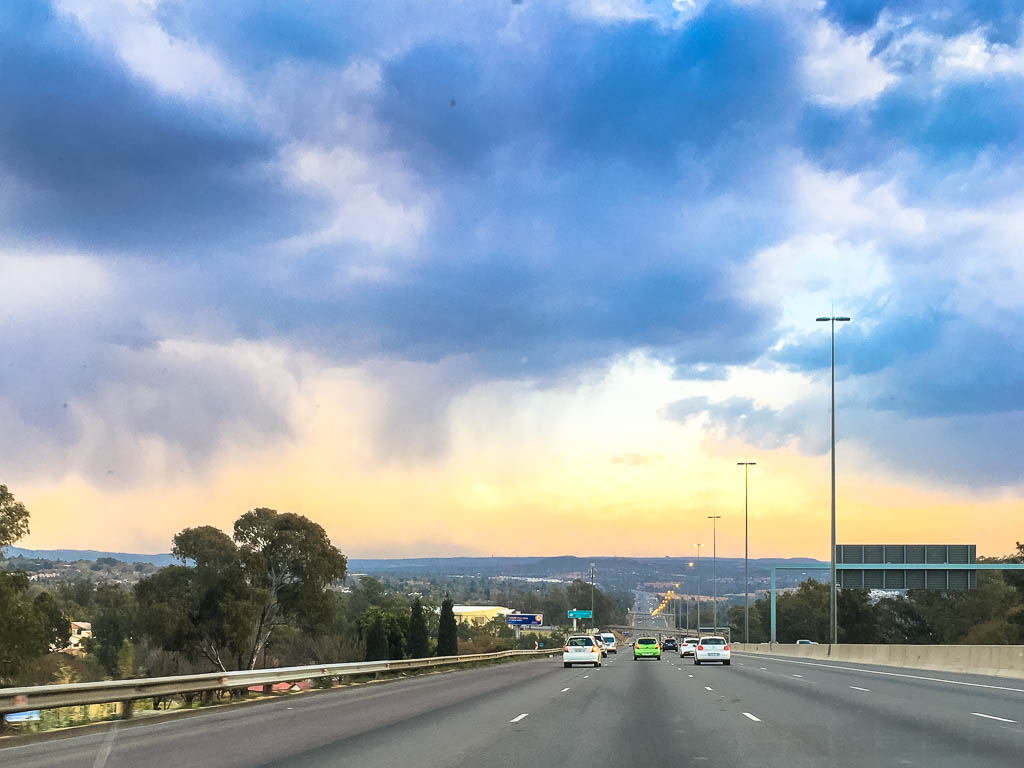 Johannesburg, South Africa
One of my favorite things about Johannesburg is our thunderstorms. I didn't get to experience one on this trip, as the country is experiencing quite a severe drought. However, on this afternoon, we had a light shower, which meant a little bit of cloud cover while the sun was going down. Another thing I love about Jo'burg is our beautiful magic hours in the afternoon, which particularly can be seen on many of our roads - usually stuck in Jo'burgs notorious traffic.
As you can see, Johannesburg, my Jozi, is a wonderful and diverse, possibly intense and crazy kind of city. But it is also home. There is so much to see and do in Johannesburg, and so much to experience. Yes, Johannesburg may be unsafe, and yes, it may be hard to love, and doesn't have the mountain or beaches like Cape Town. But you are really seeing how a large proportion of South Africans and many immigrants from the rest of Africa live and breathe. You are seeing the true South Africa, the one that has a lot to accomplish still, and a lot to overcome, with all its scars and bruises and all its hopefulness. If you want a true piece of South Africa and it's people, then you need to spend a little longer in Johannesburg.
PIN FOR LATER: